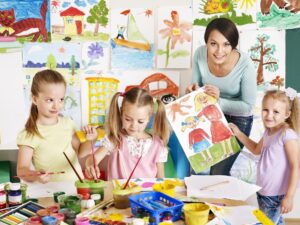 Finding the right caregiver for your children can be daunting whether you're a first-time parent or have been through the process before. With so many options available, choosing the best childcare provider for your family's needs can be overwhelming. One option that many parents turn to is a nanny placement agency. A nanny agency can make finding a reliable and qualified nanny easier.
In this blog, we'll explore some of the top reasons why a nanny placement agency may be the right choice for your family.
Background Checks
It's always best to have nannies who are pre-screened and pre-vetted. However, this can be difficult to do on your own, which is where a nanny placement agency comes in. When a candidate applies to be a nanny, the agency checks their criminal records, verifies their employment and education, and talks to their references.
These checks are essential to ensure the candidates have no history of illegal activity, abuse, neglect, or other red flags that could put your children at risk. Also, some nanny agencies may train their candidates on child safety, first aid, and emergency procedures to ensure your children's well-being while in the nanny's care.
Saves Time and Stress
When you hire a nanny through an agency, you save time because the agency has already screened and evaluated the candidates. Nanny agencies handle scheduling interviews and setting up communication between you and the candidate, which can take time to figure out independently.
Expertise in the Hiring Process
A nanny agency has experience and knowledge about the legal, financial, and practical parts of hiring a nanny. They have experts who know how to find suitable candidates based on your family's needs and wants. Also, agencies help you with employment contracts, payroll, tax obligations, and other legal and financial issues. Take advantage of the agency's knowledge and lower the risk of making a bad hire.
Guidance on Being a Good Employer
Nanny agencies help you understand your roles and responsibilities as an employer. They help you set goals, make clear employment contracts, and set up clear ways to communicate with your nanny. They assist you in navigating issues such as wage ranges based on your location and the skill sets of the candidates you are looking for, overtime rates and rules, and vacation pay.
You will better understand how to communicate with your nannies, provide feedback, and solve problems. You will learn how to improve the workplace environment to promote mutual trust and respect. Also, nanny agencies may provide training or workshops on positive discipline, child development, and household management to help nannies do a better job.
Access to a Pool of Qualified Candidates
Most nanny agencies have an extensive network of workers who have already been checked out and are certified. When there is access to a pool of qualified candidates, you are more likely to find the right person for your family's and your children's needs since you can choose from various people with different levels of experience and skills.
Guaranteed Replacement
Many nanny agencies offer a guaranteed replacement if the selected nanny does not work out for any reason. Knowing you can find a replacement if needed gives you peace of mind, especially for busy parents who need a reliable caregiver for their children.
If you are a busy working parent searching for a reliable and qualified nanny to care for your children and you want the assurance that comes with working with a reputable expert, look no further than Seattle Nanny Network, Inc. Contact us today and learn more about how we can assist you in finding the ideal caregiver for your family.