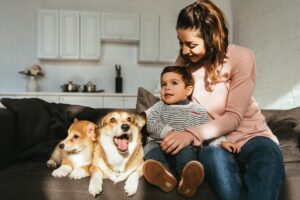 Do you need help with your newborn or a childcare provider to care for the family while you're away? One option you can consider is hiring a nanny. Most caretakers today are trained to manage family needs, so you'll find someone suitable for the job.
As a parent or guardian, the objective is to find someone who will influence your family positively. While nannies may have different personalities because people aren't the same, there are specific attributes a suitable nanny should have. You'll need to check these qualities as you make your final decision. Here are some of these traits.
Dependability and Honesty
If you require a caretaker to care for the kids while you work or handle other obligations, look for a trustworthy caregiver. After all, the nanny will spend more time with the kids for an extended period. The nanny should show dedication and execute all their roles per the agreement.
You want to make decisions that are in the best interest of your children, so you want someone who can follow all your instructions. They should also be honest in everything they do. This way, you'll all work as a team so all needs, especially the kids', are met when you're away.
Excellent Communication
Communication plays a vital role in establishing and strengthening the relationship between a caretaker and the family. So, as you search for a potential nanny, check if they can speak up whenever they need directions or don't understand the expectations. They should also share updates or vital information about the kids and any challenges they face during the day.
You also want to work with a nanny who will talk to you when they have an employment issue instead of letting the problems fester unsaid. When everything's out in the open, it will be easier to resolve issues and find an amicable solution before ruining the family-nanny relationship. So, look at how the nanny communicates during the interview. If they speak confidently and clearly or ask you to explain something they don't understand, they are likely a good fit.
Affection and Kindness
Another top characteristic you shouldn't ignore when searching for a caregiver is their genuine affection for kids. While skills and training are vital, things may not work well if the person doesn't enjoy spending time with children. The joy one derives from being around kids is what will build an excellent nanny-child relationship, ensuring kids don't feel lonely.
Therefore, look for a caregiver that enjoys spending time with the children. They should genuinely relish playing, be kind, teach them vital life skills, and even explore interests like drawing, painting, and so on. They should also prioritize discipline and help kids learn to follow the rules in a friendly way. Leaving a nanny with kids for a while can help you know if they are affectionate and kind.
Tolerance
Taking care of kids comes with a set of challenges. Issues like toy disputes, tempers, and being excessively playful when it's time to sleep can be stressful to the caretaker. This is why endurance is a vital attribute every caregiver should have to avoid giving up on their work.
If the nanny loses their temper fast or is overwhelmed easily by multiple tasks, they might not be suitable for the role. So, look for a caregiver that can work under pressure and manage any difficult situation they face in your absence. They should even be able to assess emergencies and determine the most suitable steps to take, particularly when it comes to the child's safety and well-being.
If you are searching for a caregiver with these vital qualities, consider talking to Seattle Nanny Network Inc. We will help you find someone suitable, whether you need full- or short-term services. We aim to ensure parents find the most suitable childcare solutions for their needs. Call us today for more details.