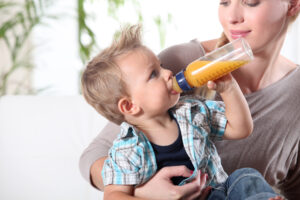 When you bring someone new, like a nanny, into your home, your child's first reaction may be apprehension or resistance. This reaction is normal, especially if your child isn't used to an outsider in their life.
To make the transition as smooth as possible, there are several steps you can take to help introduce your child to a nanny. Read on to learn how you can make the experience easier.
Schedule a Proper Meet and Greet
Before you even bring the nanny into your home, schedule a meet and greet with your child. The initial meeting can take place in a public space, like a park or library so that your child is comfortable and can observe the nanny in an environment that doesn't overwhelm them.
Make sure to let your child take the lead. Don't force them into any type of interaction or demand that they warm up to the nanny right away. This approach could make them feel uncomfortable and even resentful.
Instead, allow your child to move at their own pace and decide when they're ready for more involvement. Let them know there's no rush and that the nanny will be there for as long as they need them to be. After all, the nanny will be a big part of their lives, and you'll want them to see that as a positive.
Talk to Your Child About the Nanny
After the meet and greet, take some time to talk to your child about the nanny. Explain why you'd like to have a nanny in your home and how they can benefit your family. For instance, if you have a busy schedule and can't find the time to be home with your child, explain how the nanny can take over that role.
Let your child know that the nanny will be there to fill in the gaps you can't. Reassure them that they are still the most important person in your life and that the nanny is there to help, not replace you.
You can even emphasize the good things the nanny can offer. Talk about activities they can do with the nanny, especially ones that your child enjoys, like sports or arts and crafts. Show your child how the nanny can be a fun addition to the family, not just somebody who is there to do chores. This conversation could help ease your child's worries and help make the transition a bit easier.
Plan for a Home Visit
Once your child is comfortable with the idea of a nanny in the home, you can plan for an in-house meeting. This arrangement will allow your child and the nanny to get to know each other without the pressure of a long-term commitment.
During the home visit, encourage your child and nanny to do activities together. Let them explore and bond so your child can better understand who the nanny is and what they're like.
You can even go about your day as normal, as if the nanny were there for real, and observe their interactions. If your child is open to the idea, you can leave the house for a few hours so that your child and nanny can have some alone time together. You'll want to make sure you pay the nanny for their time if it runs over 1- 1.5 hours.
Once you start to wrap things up, you can take a few minutes to talk about how the visit went. Ask for honest feedback from both your child and the nanny so that you can make any necessary adjustments. And if both seem comfortable with each other, then you can take the next step and make this arrangement a more permanent one.
At Seattle Nanny Network, Inc., we understand your concerns about a new caretaker in your home. That's why we strive to provide the best possible nannies for families like yours who want a loving and reliable childcare provider. We carefully screen our nannies and provide a full background check to ensure the safety of your children. Contact us today for more information about our services!